Anatomy of a fish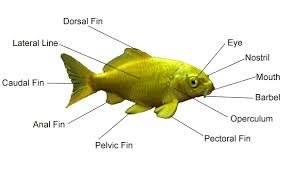 Identifying Coarse Fish
Roach

Rudd

Crucian Carp

Chub

Bream

Tench

Common Carp

Mirror Carp

Leather Carp

Barbel

Bull Head

    

Eel

Minnow

Stone Loach

Perch

Ruff

Zander

Pike

Grass Carp

Gudgeon

Dace

Ide

Wels Catfish

Grayling
This list is not a full list but does cover all of the commonly found coarse fish in the UK, other fish such as Trout (Brown, Rainbow and Ferox), Salmon and Sea Trout are classed as game fish.
Additionally in some cases species will cross breed and the resulting young are called Hybrids, the most common being the Roach-Bream hybrid. Hybrids are classed as functionally sterile, which means that they cannot reproduce.
Fish Habitat
Different species have evolved to live in different types of habitat and at different areas within that habitat, knowing this and the fish types that live in the lake you are fishing will help you to decide how best to approach catching them.
Nothing is ever 100% correct in fishing but the below list gives a general idea of what fish live at different levels within the water column.
Bottom Feeders that are normally caught close to the bottom of the lake bed. Will come up in the water in warmer conditions and feed on the surface if food is available.
Barbel
Gudgeon
Tench
Eel
Bream
Common Carp
Mirror Carp
Leather Carp
Wels Catfish
Ruff
Bullhead
Mid-water feeders, these are generally smaller shoal fish that stay together in large numbers for safety against predators.

Young bream also join this group.

Roach
Chub
Dace
Minnow
Crucian Carp
Predators – these fish spend their time hiding amongst weed or next to hidden features waiting for the right time to strike and eat other smaller fish.
Pike
Zander
Perch
Ruff
Surface Feeders, these fish spend their time just under the surface of the water eating flies and weed or relaxing in the sun
Rudd
Grass Carp
Ide